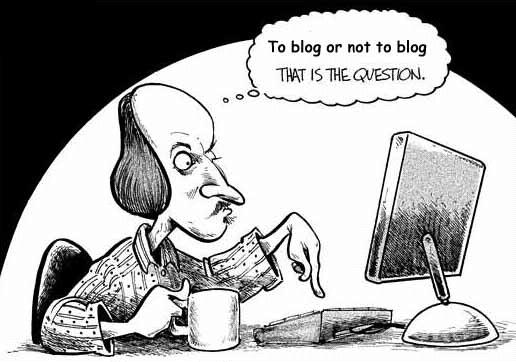 Jeff Bullas on his blog addressed an interesting thought: Is Facebook killing the blog?
Personally I don't think Facebook is "killing the blog" per se. I think blogging isn't for everyone, but there will always be those who prefer blogging to any other medium and those who think the act is a waste of time and won't partake.
To put together an article or a book 20 years ago was arduous and very few people got to see it as the web was not on public display but buried in University research labs and offices and the software tools did not exist to easily and quickly create anything much more than a text document.

When blogs emerged in the 1990′s they were very much text-based but have evolved into multimedia platforms where can embed your YouTube Videos as well Slideshare and paste in your Flickr images to embellish your text and story.

Facebook the social media giant has since arrived on the scene and developed into a multi-media rich social networking portal where you can invite all your friends and share your story with minimal friction. To publish and share in 2010 is 'dead easy' and that is what most people want, they just want to be given a tool that doesn't require plugins or widgets and just 'do it'.

Creating, maintaining and developing a blog takes a lot of  research, time and  effort with determining what plugins to use, what widgets to embed or what email and RSS subscription platforms to use rather than just signing into Facebook.

Nielsen research is showing that traffic to WordPress and Blogger the two major blogging sites is stagnating, while Facebook's traffic grew by 66% last year and Twitters by 47%.  Morningside Analytics, an analytics market research firm has discovered a 'vast field of dead blogs' in Indonesia that have not been updated since May 2009 which directly corresponds with the arrival of the Indonesian version of Facebook.
Though they "analysts" claim Facebook is the new media version of the apocalypse for the blog, I don't agree. I think Social Media adds value to blogging. Facebook, Twitter and Social Media do a great job enhancing a blog's reach and community involvement. Social Media helps syndicate blogs across the Net and expose the blogger's view point and thought to millions of people that it probably wouldn't reach otherwise.
Yet for those who aren't into blogging, but just want to share, Twitter, Facebook and for that matter Tumblr and Posterous are great options for less formal sharing.
Both Tumblr and Posterous are hosted blogging solutions. Many Netizens use them to share quips and short thoughts, pictures, images and videos. It's a way for them to express themselves without the commitment to a blog.
Now commitment is another factor that might be making the blogosphere go stagnant. Having a blog and not keeping it relatively up-to-date is almost a sin. People won't regularly visit a blog that isn't updated enough. Heck I'm guilty of not updating this site as often as I should. So the commitment factor can also be another reason Facebook is the new sharing center.
What do you think? Are blogs dead? Is Facebook the killer? Post your thoughts below in the comments.